Once you have signed onto the trip you will receive an Australian Alps Trip Information Booklet which has full details of how to plan for your trip.
What will be the temperature during the trip?
The temperature will be anywhere from 0 to -15C, 32 to 5F
*

Where do we meet?
We will meet at the Parc Café in Jindabyne at 9.30am. See the Getting There tab for details.
*
Can I leave bags in Jindabyne?
You can either arrange to leave bags at your hotel, in your car if you have driven or we will find room in our vehicle. But please don't com with excessive bags and equipment.
*
How heavy will my sled be?
You sled will weigh around 25 to 30kg / 55 to 66lb.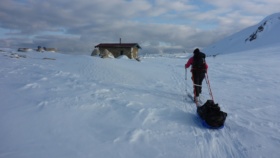 *
What type of sleds do we use?
We use Northern Sled Works Siglin Pulks made from slippery HDPE plastic and we use purpose-built conduit bar hauling traces.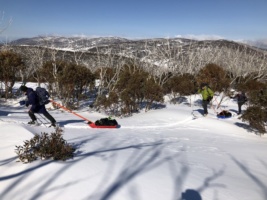 *
What if I am not a skier?
Skiing experience is preferable but not mandatory. We will spend time teaching you and you can also opt to be on snowshoes. We carry both skis and snowshoes.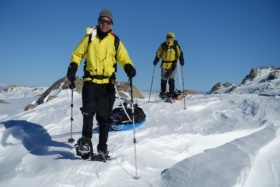 *
How do we go downhill with sleds?
We usually change to snowshoes and the bar traces stop the sleds from overtaking us, they simply track in our steps. On steeper ground we unclip and reverse the bars which gives excellent stability and control.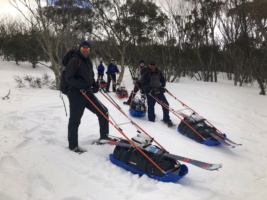 *
How long do we ski every day on the trip?
It varies depending on the group, terrain and weather. Usually we ski between 5 to 6 hours per day not including breaks.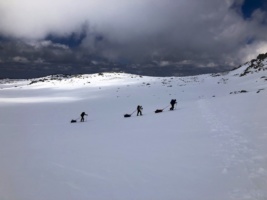 *
What is the Guide to Client ratio?
1:6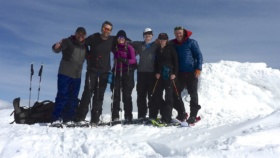 *
What type of tents do we use?
We use Hilleberg Keron 3 or 4-person tents for two people. There is plenty of room to get comfortable but small enough to warm up quickly once you are inside. You are responsible for setting up, managing and taking down your tent.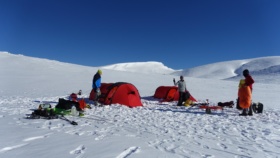 *
What will we eat on the expedition?
You can find our menu here
*
Who cooks the meals and melts the snow for water?
You do! This is a normal part of winter trip life. We train you in how to use the gas stove efficiently and carefully.
*
What if there is an emergency and how will we communicate with the outside world?
We carry a number of communications and emergency devices including an Iridium handheld phone, iPhone and PLB (Personal Locator Beacon). Our trip plans are logged with the Icetrek office and with NSW Parks.
*

Is there mobile reception?
We will have mobile reception for some of the trip but it isn't reliable so don't make any promises to be in touch with family and friends. There is reception on the summit of Mt Kosciuszco and we often post from the to Facebook from here.
*
Feel free to submit your own questions.