WHAT IS SVALBARD POLAR PRIMER?

Svalbard Polar Primer is a 5-day introductory ski and sled hauling expedition on Spitsbergen, the largest island in the Svalbard archipelago. It occurs in spring when the fiords are frozen and the mountains and glaciers are covered in a thick later of snow.
.
What will I learn on the Svalbard Polar Primer?

You don't need any prior polar, skiing or winter camping experience to join this trip. Svalbard Polar Primer is an introductory experience that introduces you to the Arctic environment and how best to survive, camp and move across it.
We start with the basics while still in Longyearbyen - tent pitching, stove lighting, sled packing, food preparation, clothing and equipment use - then progress onto the ice, spending a half day on skis hauling sleds to our first camp in a broad, protected valley. Everything is slowed down to give you time to settle into life on a polar expedition and we help you on the first evening to get a sturdy, organised and safe tent set up.
Over the next 4 days you will develop skills and confidence in polar expeditioning. Covering large distances is not an objective of this program, but slowly building time in the sled harness is, until you feel comfortable in the environment, confident in your growing skills and ready to move to the next level if that's your interest. And if it's not, then this trips is also the perfect standalone experience to give you an appreciation of our world of polar adventure.

.
Can I leave bags in Longyearbyen?
Yes. We have a secure storage facility in Longyearbyen where you can leave bags.
.

Where do we meet?
We meet at Lagerservice warehouse at 4pm, two days before the strat of your trip (see Getting There).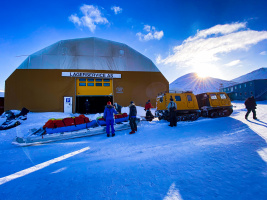 .
What will be the temperature on arrival in Longyearbyen and during the trip?
The temperature will be anywhere from -10 to -20C, 14 to -4F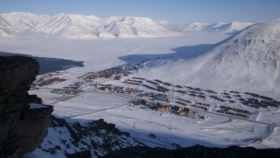 .
How heavy will my sled be?
For the Svalbard Primer program your sled will be 35 to 40 kg, 77 to 88 lb.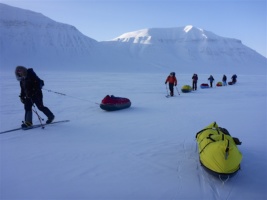 .
What if I am not a skier?
Many of our Svalbard Primer customers have never been on skis before. We will train you at a manageable pace while you are on the ice.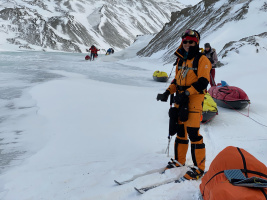 .
What is the Guide to Client ratio?
1:5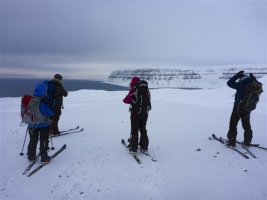 .
Will there be any crevassing?
Svalbard glaciers are crevassed though this time of year they are still mostly filled in with snow. However we always carry glacier travel equipment - ropes, harnesses, rescue gear - and use it when necessary.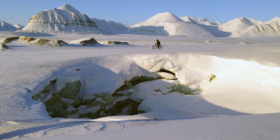 .
What type of sleds do we use?
We use Icetrek Nilas and Polynya sleds made from slippery HDPE plastic. These are purpose designed and built by us to give optimal performance on ice and snow.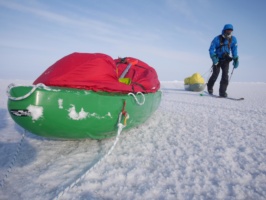 .
What type of tents do we use?
We use Hilleberg Keron 4-person tents for two people and a Hilleberg Altai group tent. There is plenty of room to get comfortable but small enough to warm up quickly once the stove is operating. You are responsible for setting up, managing and taking down your tent.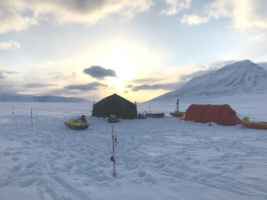 .
What type of sleeping bags and mattresses do we use?
We provide you with a roomy synthetic outer sleeping bag to use over the top of your 4-season down sleeping bag. The combination will be rated to -40. We also provide an inflatable and foam mattress combination with a minimum 6+ R-Value. We also provide you a protective mattress sleeve that converts to a chair to sit up and rest comfortably in the tent.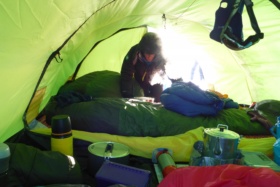 .
What will we eat on the expedition?
You can find our menu here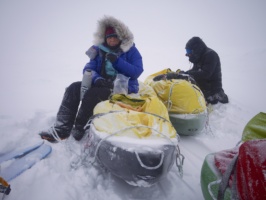 .
Who cooks the meals and melts the snow for water?
You do! This is a normal part of expedition life. We train you in how to use the stove.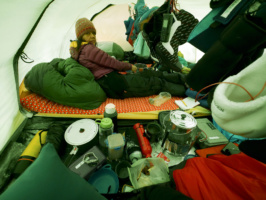 .
What if there is an emergency and how will we communicate with the outside world?
We carry an Iridium handheld phone and an Iridium modem, we can use both to call services in Longyearbyen and post daily updates and images to our Iceblog. We also carry a tracking beacon with emergency function and a Personal Locator Beacon which can be activated in an emergency. Signals from both are received by emergency services and relayed to Longyearbyen rescue services. We are also in mobile range for much of the trip.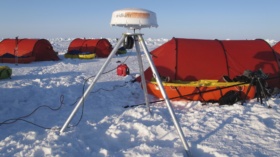 .
How long do we ski every day on the Svalbard Primer trip?
We start gently, skiing for around four hours on the first day. We cover this by skiing one hour, then have a short stand-up break, then another hour with a sit down break. We do the same again and have lunch and then another 2 hourly sessions before camping. When everybody feels ready we might extend to 7 and perhaps eight hours per day.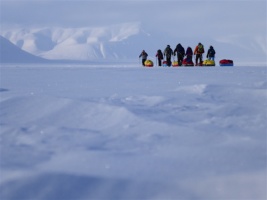 .
Where can I find more information about Svalbard Polar Primer?
Once you have signed onto the trip you will receive a Svalbard Trip Information Booklet which has full details of how to plan for your trip.
*
Feel free to submit your own questions.